ADD UP PROJECT
DIRECTION > Dario La Stella – Valentina Solinas
PRODUCTION > Senza Confini Di Pelle
ITALIAN COLLABORATIONS
> INTERPLAY International Contemporary Dance Festival
> La Piattaforma Teatrocoreografico Festival
> Italian Institute of Culture of San Paolo
> A di Città
> Urban Barriera di Milano
> SPAM!
> Associazione Lis
> Fondazione LIVE Piemonte dal Vivo
> Compagnia NAD
> Stalker Teatro
INTERNATIONAL COLLABORATIONS
> Sala Crisantempo – Nucleo De Garagem company - SESC Santo Amaro (Brazil)
> Mecklenburg Inspiriert (Germany)
> Les Brigittines (Belgium)
> La Briqueterìe (France)
> CK Zamek (Poland)
> Pépinières Européennes pour Jeunes Artistes
> La Maison de l'Arbre (France)

CONCEPT
From July 2011 we are working to a dancetheater project, called Add Up. This Project is an instrument of sociological investigation about urbanization of a specific urban site, using the language of dance, theatre, performing art, happening. This project analyzes how the dance can speak about the relationship between urbanization and sociality, how we can imagine a new way to live the social places and subvert the common idea, how the relationship between social identity and urban places is a dynamic movement and how performing art can speak about the identity of a place.
ADD UP is developed by national and international steps and collaborations through periods of artistic residency in different places around the world.
In every place where we go, we start with a new research and we build a new performance: a peculiar dance to each space where the investigation takes place. The Add Up project is developed through Research and Performance

RESEARCH
With the project ADD UP we want to explore the possibility to add the bodies onto the objects that you can find in the street like walls, laps, stairs, trees, fountains, windows, doors, trash cans and use this practice to absorb the mood of a urban site.
We use three different ways of adhesion: physical, intellectual and emotional.
After in the rehearsal space all the materials, found by the adhesion of our bodies, will be transformed into physical actions and abstract dances that will be the basic structure of the new performance.
The core of the project is how the bodies are modified by their adhesion onto the "street".
It's our intention to catch the postures that were born from the adhesion of our bodies on the street objects to create a performance where the postures become a sort of "metropolitan behavior dance" which speaks about identity of that specific place.
This urban research performed in front of the people, that walk in the street, looks like a specific dance happening but for us it's just a research moment.
PERFORMANCE
The performance is the result of the translation of the postures selected into a dance. All the physical, emotional and intellectual shapes and movements that arrive from doing the adhesion, are reorganized into an abstract choreography, working with the body memory. Then we mix this choreography with videos, photos and audios recorded by the street to create the performance. The final result will be a sort of original intimate map of that site.
Depending of the place where we conduct our project, the performance can take different shapes: dancetheater piece, urban dance choreography, site specific performance, in close or open spaces, day or night. If it is played in a close venue like a theatre during the performance we use a video we have recorded meantime the research and we interact with it.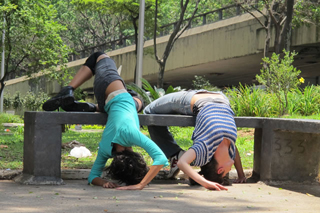 VIDEO OF ADHESION IN BRAZIL